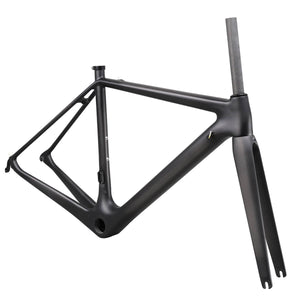 Super Light Carbon road Frame A2
Regular price $901.00 Sale
The A2 is our classic carbon fiber road bike. A road bike that looks like a road bike and not a university aerodynamics project. It is, thanks to this look, really light. There is no extra carbon where you don't need it, just enough to make sure your bike is strong and reliable.
The A2 frameset is constructed from the finest of Toray T700 carbon fiber, bringing you a frame that weighs around 800g. Even though this frameset is designed to be a lightweight climber, we have made sure that our carbon fiber layup allows the frame to be super stiff.
There is no point in having a hill climbing bike that if every time you press down on your pedals coming out of a hairpin it flexes. That would be a waster of your energy and time. We then made sure that the A2 is stiff, your power will only be going to your back wheel to push you up those inclines.
That is why we constructed an oversized PF30 bottom bracket area. By going with a PF30 bottom bracket, you will find that every crank on the market can fit your bike. To go with this bottom bracket area, we have also installed a tapered head tube to make sure that your frame is as stiff and comfortable. To add more comfort we have also gone with a 27.2mm seat post size.
We finished the frame by utilizing our renown internal routing for cables. All your cables will be hidden from the wind and out of the way of inclement weather. Our system is simple to set up so do not fear internal routing.
Type: 700C Carbon frame
Model: A2