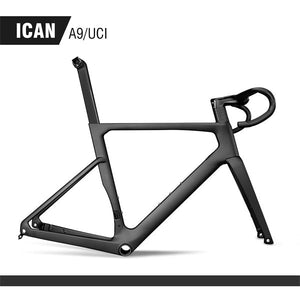 Disc Road Frame A9
Regular price $1,049.00 Sale
The A9 is constructed from a mix of Toray T700 and T800 carbon fiber cloth. Using the combination of carbon fiber allowed us to keep the weight down while building aero shaped profiles to help you slice your way through the air.
This frameset will help guide you to new Strava times, and people will wonder how you suddenly got so fast.
Featuring thru axles front and rear, a massively oversized BB86 bottom bracket area, a 1.5" head tube and some seriously oversized chain stays this frameset will make sure every watt of your energy is transferred to the road and is used for pushing you along.
You'll be going so fast, you'll be glad of the flat mount brake calipers you have fitted.