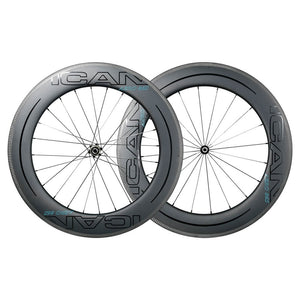 AERO 86S
Regular price $758.00 Sale
86mm depth aero wheels are the best deeper profile wheels from ICAN. We took our amazing FL series of wheels and put them on a diet. Which was not an easy task as we did not want to lose product qualities.
Our FL range have been a great seller due to their combination of strength, weight, price, stiffness, and ability to slice through the wind.
So, when it came to designing the Aero series we knew that we had to deliver one of the greatest aero wheelsets ever. Our engineers worked hard and came up with a new 86mm deep carbon fiber rim. To become lighter than the FL series, we had to mix Toray T700 and T800 carbon fiber. In the end, we developed a lighter tubeless ready aero rim that will take you to new performance heights. Since you asked they are around 100g lighter per wheelset.