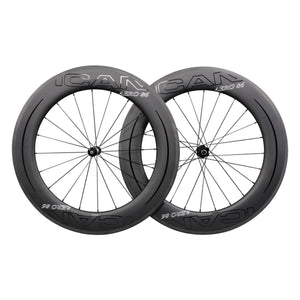 AERO 86 DT240 EXP/350
Regular price $1,020.00 Sale
Fancy winning triathlons and time trials? If so these are the wheels for you. Our new deep section Aero 86 are as you can imagine 86mm deep and help you slice through the air with ease.
Our Aero 86 is a new wheel for 2019. We tasked our engineers with taking our best-selling Fast and Light series and improving it. They had to keep all the great qualities of our FL series though. The wheels had to be stiff, strong, tubeless ready, and aero.
So, they knew they had to keep the great blunt aero shape of our FL 86 but make it lighter. They did this by constructing the new rim out of Toray T700 and T800 carbon fiber instead of solely out of Toray T700. The mixing of fibers allowed us to save around 100g per wheelset and keep all the qualities that you most admired in the FL series.
To help you stop, sometimes you have to. Our engineers took the brake track from the FL series and its ability to cope with 240° of heat and improved it. OUr new Aero series can cope with 300° of heat.