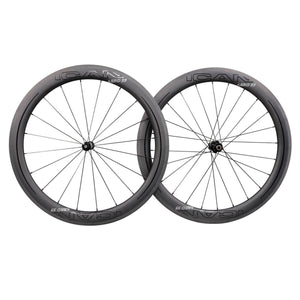 AERO 55 DT240 EXP/350
Regular price $970.00 Sale
Our new for 2021Aero 55 carbon fiber rim is the perfect counterpart to DT Swiss hubs. The Aero 55 is based on our best selling Fast and Light 55. The FL 55 is an ideal aero wheelset, and with the Aero 55, we made a few improvements to bring you market leading quality for an affordable price.
Our tubeless ready FL series is based around a modern blunt aero shape. We constructed this shape out of Toray T700 carbon fiber. The use of T700 allowed us to build you a light, strong, stiff, and aero wheelset. For the Aero series, we wanted to make that lightweight a little bit lighter.
To make the FL lighter but keep it strong and stiff we had to use a mix of Toray T700 and T800 carbon fiber cloth. The combination of these fibers allowed us to save around 100g per wheelset while still keeping our aero shape stiff and strong.
We also did a little bit of work to the brake track. Our FL series have a brake track that can cope with up to 240°. For our new Aero series, we took that up to 300°. You won't need to fear Alpine descents on our Aero 55.