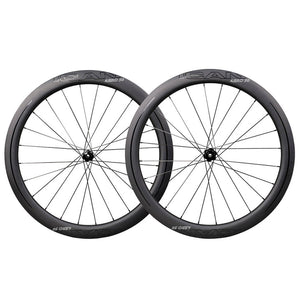 AERO 50 Disc DT240 EXP/350
Regular price $981.00 Sale
How do you make a perfect wheelset better? You make it lighter. The DT Aero 50 is an ultralight 50mm carbon wheelset that is recommended for road racing, gravel racing, and cyclocross racing. Tubeless tires are known to offer better rolling resistance; and unlike their inflatable equivalents, tubeless tires are immune to punctures, making them low maintenance alternatives. ICAN's DT Aero 50 Disc's 2-way clincher design promotes easier tire installation. This set of 700C wheels feature 25mm wide wheels which offer more stability by supporting forward motion in a straight line at high speeds than slimmer alternatives. The rim is made from 100% carbon fiber (a combination of Toray T700 and T800 carbon cloths) making the wheel lighter.
High-performance wheelsets require high-performance hubs. Just like other members of the DT Aero Disc Wheelset Series, the DT Aero 40 comes with an option of either the DT 240S or the DT 350S hubs. These Swiss hubs are high-performance machines; providing the rider with smooth power transition and flawless freewheel action. The best thing about these Swiss hubs is the fact that they are incredibly light. DT 240S/350S hubs are compatible with 10/11 speed Shimano Cassettes and Shimano Centerlock Disc Rotors.
The DT Aero 50 supports a maximum rider weight of 105Kg or 232Lbs.
Each purchase comes with a free set of skewers and a 2-year guarantee.